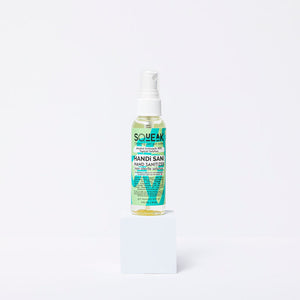 HANDi SANi Single | 80% alcohol hand sanitizer, cinnamon + rosemary
Regular price
$5.75
$5.75
DETAILS
If you asked us way back when if we'd launch an alcohol-based hand sanitizer, the answer would be no. Not because we think alcohol is bad (hello cocktail hour), but because it is often unnecessary to sanitize to that extent. We don't ALWAYS want to kill ALL the germs - they too can protect us. But times are different now. Our health is at risk with each outing we take and each shopping cart we touch. COVID-19 has rocked this world and I would be ignorant to ignore the cleaning requirements that have been set forth by the World Health Organization and the CDC.
HANDi SANi was created from the exact recipe that the WHO has approved and posted on their website. It contains 80% ethyl alcohol, a bit a hydrogen peroxide, a tiny bit of organic glycerin, and purified water. We added a little blend of essential oils using some of the ones that have antiviral and antimicrobial properties like clove and cinnamon.
You may also be wondering why we chose ethyl alcohol vs isopropyl alcohol. Isopropyl alcohol is made from Propene, a compound that comes from fossil fuels like petroleum, natural gas and even coal. Ethyl alcohol, or grain alcohol, is made from sugar cane or corn and it is the alcohol used in the alcohol that we drink. Make no mistake: NO ALCOHOL-BASED SANITIZING PRODUCT IS SAFE TO INGEST. It's even recommended to not breathe it in when possible.
We have also left out the fake fragrances (gross) and QUATS (Google it) which have both been linked to several human health issues. SQUEAK = safer, simpler. Always.
WHERE TO USE
hands

phones

handles

surfaces 
INGREDIENTS
This 2 oz. hand sanitizer spray bottle is filled with:
80% ethyl alcohol (antiseptic)
purified water
hydrogen peroxide
organic vegetable glycerin

organic* essential oils: orange*, clove stem*, grapefruit*, rosemary*, cinnamon leaf*
HOW TO USE
Shake + Spray your hands with 2-3 pumps and rub front and back.